Location: NW Cottage St between NW 321 and NW 324, North Plains, OR
Date: Saturday, August 14, 2021
Time: 7:00 am to 8:30 am
Same Day Registration Is Possible.  Although online registration is now closed for Saturday's Garlic Festival 5K, 10K and Half Marathon events, it will reopen for same day registration at ORRC's registration check-in desk at ORRC's North Plains event. Check below for event times and location.

Celebrate the North Plain's Elephant Garlic Festival with a half marathon, 10K or 5K run/walk around the city and Washington County scenic roads. Stinky fun for the whole family. The annual Garlic Festival features a parade, live music and garlic-themed food and craft vendors to explore following our half marathon, 10K, and 5K events. Experience the rural beauty of the North Plains as you run on quiet farm roads.
For 2021, a new start/finish and parking area has been established on NW Cottage Street, between NW 321 and NW 324 in North Plains, proximate to the previous start/finish area at Jessie Mays Community Center.
After the race enjoy elephant garlic, custom-made event Fitsok socks, one free beer, and all that the festival art and food the vendors have to offer!
ORRC members receive $10 off their registration if preregistered. You'll also have the opportunity to sign up for ORRC membership during the registration process and receive $10 off your registration.
Registration prices increase July 14th. So register now.
In-Person And Virtual Options
Both in-person and virtual options are available for all three distances when you register.
Those choosing the virtual option will run your event between July 14 and August 14. Instructions to submit your results will be provided in July
Event Schedule
7:00 a.m. – Half Marathon start (3-hour strict time limit – course closes at 10 a.m. due to other festival events)
8:00 a.m. – 10K event start
8:30 a.m. – 5K event start
Bib Pickup
Packet pickup will be held both on Friday Aug 13, noon to 6 p.m. at Oregon Sports Office West – 4840 SW Western Ave, Beaverton, OR., and at the running event, Aug 14, at the Registration Booth.
Courses
The Garlic Festival 5k loops though south and west N. Plains. The Garlic Festival Half Marathon is two beautiful hilly loops around the Pumpkin Ridge Golf Course. 10K is an out and back. The 5k is a loop within the city of North Plains.
ORRC course mileages are accurately measured by Jones Counter, the industry standard. Individual course mileages shown on the linked course maps' narrative however are information-only estimates calculated by rungo's software which generates the map/narrative and are subject to algorithm error.
Awards
ORRC presents plaques to the top male and female open and masters finishers in both running and walking categories for the 5K and 10K (16 plaques), as well as for the half marathon female and male open and masters runner winners (4 plaques).
ORRC also awards ribbons three places deep in five-year age groups for both runners and walkers for the 5K and 10K race events, and to the runners (only) in the half marathon.
Safety Notes
Pets are not allowed at the festival
Strollers are not allowed on the course
Roads are not closed to traffic during the races
The use of personal music devices is strongly discouraged in this race. To enjoy all that our race has to offer and for the safety of all participants, ORRC encourages a headphone-free environment during the running of the event.
Swag
Garlic Festival participants receive awesome finisher medals and custom socks.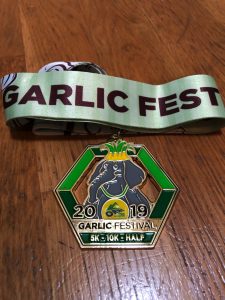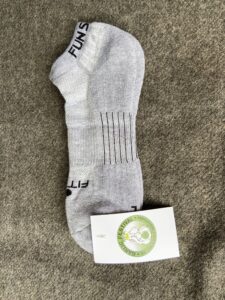 Results and Photos
Parking
Parking is in a field south of NW Cottage St between NW 321 and NW 324 streets in North Plains. See map below.
Please use NW 324th St to access parking.  NW 321st/Cottage St intersection is blocked by start/finish mats.
Volunteer
If you're interested in volunteering at the ORRC Garlic Festival event, please click here to see the roles and sign up. You get a big thanks from ORRC plus a code valid for $50 off your next ORRC's race event.
Sponsor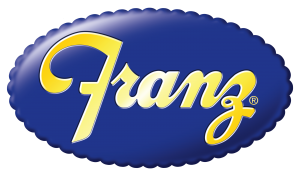 Location
NW Cottage St between NW 321 and NW 324, North Plains, OR