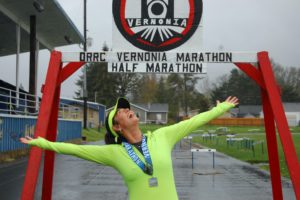 Oregon Road Runners Club results and photos are provided as a benefit for our members and race participants.
About Our Results
Oregon Road Runners Club partners with various timing companies to provide results for our events. Some of the benefits of club membership is the ability to participate in the 10K Series, 5K Series as well as earn points for volunteering. Club members who participate in these events, adhere to the Rules of Engagement and can track their Member Standings in the various club activities. Learn more about the benefits of membership.
About Our Photos
We strive to get photos of every runner and walker at each of our events. Photos taken by ORRC volunteers are free for personal use and are clearly marked free on our photo gallery. If you would like to use a photo for any other reason, please contact us at info@OregonRoadRunnersClub.org. Please note that we do our best to capture the best picture of our participants, but photos that are blurry, unflattering or poor quality are discarded out of respect.
We are actively taking photos at our events. If you see a photographer with a nice camera, feel free to ask them to take your photo.
Photos & Results by Club Events
Y2K – January
Hagg Lake Mud – February
Champoeg – March
Vernonia Marathon – April
Hagg Lake Road Runs – May
Hagg Lake Trail Run – May
Up the Lazy River – May (Memorial Day)
Summer Solstice Sundowner – June
5 on the 4th – July (Independence Day)
Dual Duel – August
Garlic Festival Run – August
Greenway Trail Trial – September (Labor Day)
Best Dam Run – September
Blue Lake Runs – October
Autumn Leaves Ultra – October
Turkey Trot – November (Thanksgiving)
Past Events
Wildwood Trail Trial (last held in 2013)