A clear sunny and brisk cold morning didn't stop over 400 runners and walkers from participating in our club's first race of 2016. Even with the cold, we were very fortunate to miss the snow the next day. We want to thank everyone that joined us at our event.
The event was timed by Timing by Zornick. Links to the results are on the Y2K Results and Photos page.
A direct link to the Y2K Photos from the event are free for personal use of participants as benefit of the event.
We would like to thank the City of Forest Grove, the Forest Grove Police Department, The Forest Grove High School Cross Country Team, The Meals on Wheels Folks and Liberty Fit for supporting our event.
Volunteers
No club race is possible without the support of volunteers from the running community. Below are all the people that made the 2016 Y2K possible. Super volunteers are those that did multiple volunteer roles throughout the event and are indicated with a ♥ symbol.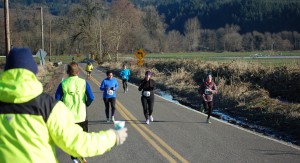 Early Packet Pickup on Friday: Ralph Brown♥, Sue Moir♥, Barbara Wriggle♥ and Judy West♥
Parking Lot: Bernie Blazek♥ and George Paulson♥
Greeters: Ralph Brown♥, Nancy Fisher and Penny Williams
Day of Registration: Kelly Barten, Abby Meek, Diane Bemrose and Dick Bemrose
Packet Pickup: Jim Armstrong♥, Linda Armstrong, Carole Reiley and Liberty Fit♥
10K Series Table: Val Pratt♥, Ken Pratt♥, Lizzie Cheney, Fenny Roberts and Mark Takizawa
T-Shirt and Blankets: Sue Moir♥, Tracey Reisinger♥ and Julia Reisinger
Course Volunteers: Liberty Fit♥, Laurie Jenkins, Forest Grove Cross Country♥, Adrian Shipley, Forest Grove Police, Barbara Wriggle♥, Chris Roth♥, Brandon Green♥, George Paulson♥, Steve Wright♥, Sue Moir♥, Wanda Johnston, Dave Johnston, Laura Morrison♥, David Graham♥, Val Pratt♥, Ken Pratt♥, Bernie Blazek♥ and  Jim Armstrong♥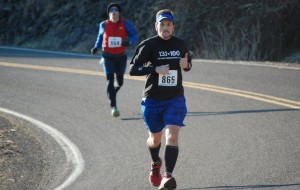 Race Photos: Bernie Blazek♥ and Michael Allen
Finish Line: Chris Roth♥, Barbara Wriggle♥, Pattric Langley♥ and Tracy Reisinger♥
Course Sweepers: Brandon Green♥ and Mark Barrett♥
Pancakes and Hot Beverages: Rayann Warncke and The Meals on Wheels Folks
Award and Drawing Announcers: Ralph Brown♥, Bonny Benton♥ and Sue Moir♥
Clean-up: Mark Barrett♥, Pattric Langley♥, Bonny Benton♥, Judy West♥, Sue Moir♥, Steve Wright♥ and Brandon Green♥
Y2K Facebook Coordinator: Barb Schimmel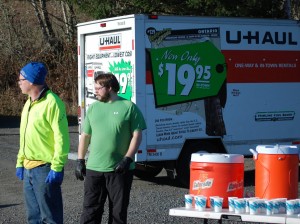 Stadium Blanket Design: Ken Pratt of Tandem Signs
Volunteer Coordinator: Judy West♥
Race Directors: Mark Barrett♥ and Bonny Benton♥