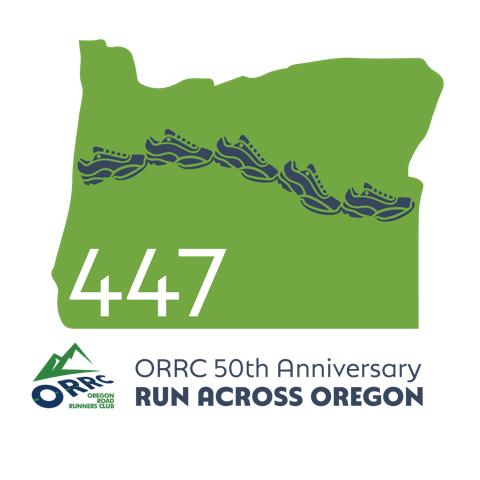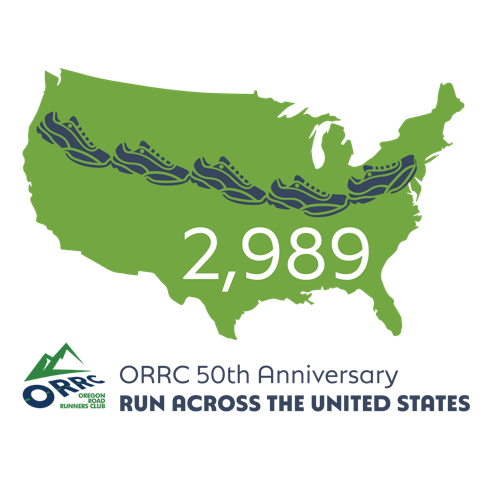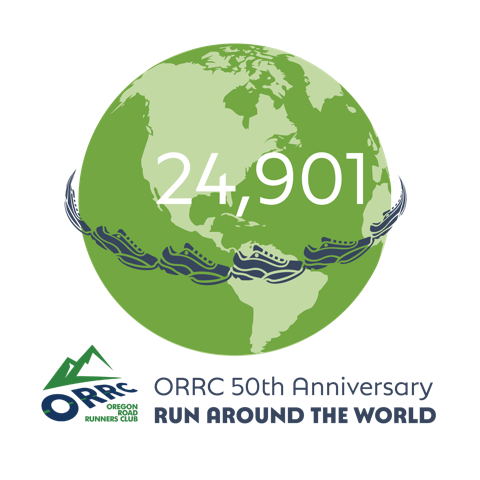 Run Across Oregon – Run Across the U.S. -Run Around the World
Oregon Road Runners Club wants to thank everyone who participated in its 50th anniversary challenge and hopes everyone had a fun time looking back over their miles and where they've been in the last 50 years!
We had 29 people submit mileage, with all of them running across Oregon, 27 running across the U.S. and 14 running around the world. For complete results click on the link below:
50th Anniversary Challenge Results
Jay Goldstein completed the most miles with 91,000, and while not specifying which one, his first ORRC race was back in 1978. His favorite ORRC event was Hood to Coast (which ORRC started, but relinquished back in 1987)
Eb Engelmann came in just behind Jay with 87,820 miles, and was also our oldest participant at age 80. His first ORRC race was the 11th Portland Marathon back in 1982 (also originally an ORRC race)
Randy Lee not only completed the "around the world" challenge, but provided proof of some of his travels by providing a photo of him at the Athens marathon.
The race most participants said was their first ORRC event? Champoeg 10K, ½ marathon and 30K. A beautiful run taking place on Saturday, March 5th in 2022.
But the most popular event of all participants was the Vernonia marathon and ½ marathon, taking place this year on Sunday, April 10th.
What was ORRC doing the last 50 years?
Feb 1970: In February of 1970, a large field of 240 showed up for the first Trail's End Marathon, directed by Ralph Davis. Among them were Dick Forbes, a biology professor at PSU, and his running partner Ric Raymond, a student there. They were encouraged by the large turnout and felt that it indicated a potentially bright future for road running in Oregon. The original idea was Ralph Davis', and Dick and Ric followed up on it. They sent letters to everyone who had run at Trail's End proposing the establishment of a club whose essential purpose would be to organize more races for its members. Twenty-seven people responded by sending in their dues, and the Oregon Road Runners Club was born.
1970-80s: Recruitment efforts were stepped up, and some new practices were adopted to make club events more appealing to a broader spectrum of runners. Awards categories were expanded, particularly for women, so that the number of prizes was equal for both sexes in all categories. "Jogathons" were instituted with most races, designed for beginning or younger runners, providing finish times and ribbons to all participants, plus a trophy to everyone who completed a minimum number of jogathons in a year. Membership skyrocketed in the late '70's, and by spring 1984 over 4,000 were ORRC members. At one point ORRC was the second largest running club in the country, next to the New York running club. Today membership has stabilized at around 600 members between individual and family memberships.
In 1972 ORRC coordinated the first Portland Marathon (held on Sauvie Island at the time). ORRC relinquished control of the marathon in 1988.
1982 saw the club's first involvement with the ORRC Turkey Trot. The race had already been established by OMSI, but this was the first year ORRC became involved with the event that would eventually become the ORRC Turkey Trot at the Zoo.
Also in 1982 ORRC helped originate the first Hood to Coast. However, as it became larger, like the Portland Marathon, ORRC relinquished control of Hood to Coast in 1987.
In 2000, ORRC's first July 4th run, which included the famous Grete Waitz, was announced in a revolutionary method… by electronic communication to its members. With the discontinuation of the paper newsletter, the first e-mail blast to members was done and continues to this day.
Today, ORRC conducts over a dozen races each year, and contributes funds to activities like Liberty Fit, and Willie Fit to promote youth running in high schools, and to other various non-profit groups around Oregon, including the Oregon Zoo.
To learn more about ORRC, or if you would like to become a member to support the club's goals of promoting healthy lifestyles, please go to the ORRC website orrc.net. If you have any questions about the club, or would like to volunteer at any of our events, please email volunteer@oregonroadrunnerslub.org
Once again, thank you for supporting ORRC over the last 50 years, and here's to another 50 more!
(we're sorry but the deadline to submit miles for ORRC's 50th anniversary celebration was December 31, 2021, so it is too late to submit any more miles at this time)