Oregon Road Runners Club 2020 10K Race Series
** The 2021 ORRC 10K series program has been cancelled.  Municipalities are currently not issuing required permits, necessary to host our race events, due to prevailing COVID-19 health safety restrictions.**
The 10K series is only open to Oregon Road Runners Club members. Paying for the race series entitles you to register for each of the seven 10K series events for no additional cost. 7-10 days prior to each event, you'll be emailed a special link to collect your "reserved entry."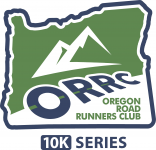 Registration for the 2020 ORRC 10K series is open until January 15, 2020 – click here.
2020 10K Races
May 25 – Up The Lazy River 10K
August 8 – Garlic Festival 10K
September 7 – Greenway Trail Trial 10K
September 19 – Best Dam Run 10K
The 10K Series is for runners and walkers with end-of-year awards given in both run and walk categories. Participants earn points for participation in each event, placing in the top three overall (walk and run), and placing in their age groups. Participating in all 10K Series events is not required to be eligible for year end awards but the more races you participate in the more points you earn.
How does the awards point system work?
Race points
Points are awarded for each of the 10K series races you participate in. Each participating race event equals one point. Important for banquet year-end 10K series requirements and separate overall age awards.
Age
Category points are awarded for those placing in the top six of their age group (as of January 1):
6 points for placing 1st in his or her age group
5 points for placing 2nd in her or his age group
4 point for placing 3rd in his or her age grou
3 points for placing 4th in her or his age group
2 points for placing 5th in his or her age group
1 point for placing 6th in her or his age group
For more information, please contact the 10K Series Coordinator at 10KSeries@oregonroadrunnersclub.org
To check your standings for 2017, click here.
Click here for photos of our 2016 Annual Awards Banquet.